D.F.T. Piñabar
Piñabar – Self Serve Pineapple Peeling, Coring and Spearing Machine
See it in action!
Our patented system is the most innovative on the market today! The Piñabar pineapple machine gives your customers the excitement of peeling their own pineapple in just 20 seconds, delivering the fastest and freshest in-store pineapple experience.
Increase Produce Sales
We are having great success in the supermarket and produce industries with the Piñabar. Store owners and produce managers have realized an increase in pineapple sales by an average of 300%, increased store foot traffic, and higher repeat business. The Piñabar is a very easy-to-use automatic pineapple cutting machine that brings your customers returning to the produce department again and again!
Increase Foot Traffic
Our Piñabar customers are enjoying a huge increase in foot traffic as well as higher produce sales. It's an interactive experience that your customers will love! 
Increase Branding (Custom Wrap & Theater Effect)
Our Piñabar pineapple peeling machine is a branding tool for your marketing department. It can be customized in style and color and can include your business logo in the custom wrap.
2 Options
Standard Peeled/Cored Pineapple or Spears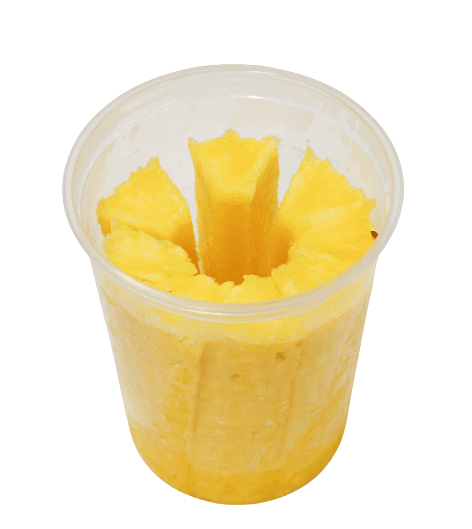 SPECIFICATIONS:
Dimensions:  32″D x 29″W x 76″H
Power supply:  120V, 60Hz Single phase 20 AMP. Service on dedicated circuit
Power:  350 watts
Noise: <70 dB sound level
Capacity:  5/min
Waste Container Capacity:  40 Ibs. of peel (25 pineapple)
Weight:  725 lbs.
Certifications:  NSF, CE, cULus
Color:  Fully customizable
Cleaning:  We recommend cleaning once per day. User manual and waste bin is delivered with every machine.
Blades available for:  Pineapple types 5-9; always use the correct blade set for each size.
Your #1 Source For Commercial Juicers and Pineapple Corers
Have questions? We're ready to help.
To receive more information, please visit our contact page or call our customer service line at 1-800-627-2886 to have all of your questions answered. Our friendly staff can help you select the best equipment for your business.
Contact
Based in Jupiter, Florida — We keep a large inventory of juicers and pineapple corers ready to ship out to you either the same/next business day.
Juice extraction and pineapple coring has never been easier and making fresh citrus juice or peeling and coring pineapple in full view of customers can be an ultimate image builder for your business. Our experienced staff can help turn your ideas into reality with an affordable commercial power juicer or pineapple corer.
Contact Us
Main Office
2875 Jupiter Park Drive
Suite 1600, Jupiter, FL 33458
Mailing Address
286 Barbados Dr.
Jupiter, FL 33458
Our products carry a superior warranty on parts & service. We also have all of spare parts your commercial juicers need.
Customers can fill out a service request form at any time. To fill out the form, please visit our service request page.