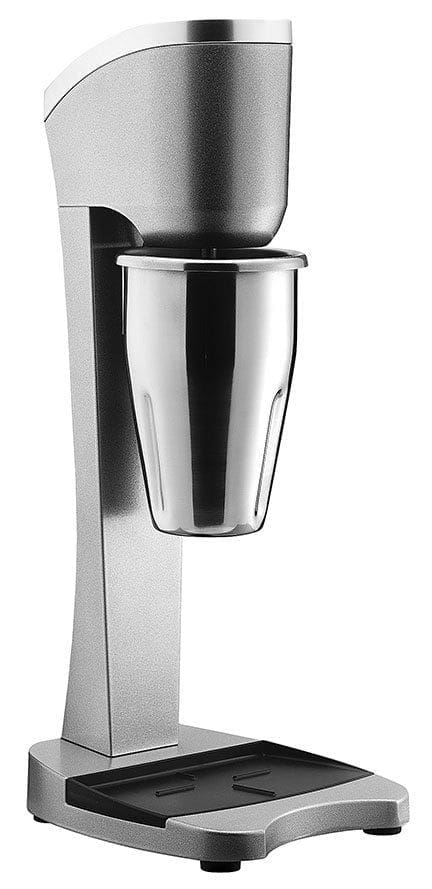 Ceado Commercial Mixers
Ceado Drink Mixer
This juicer is the single version (with a 0.9l stainless steel container) of a commercial milk-shaker for preparing frappes made with ice cream or powder and milk preparations, milk-shakes, iced shaken coffee and other ice cream and liqueur-based drinks.
Power:Made entirely in light alloy and steel, the Ceado Drink Mixer is fitted with a 300W fan-cooled universal motor that turns at 15,000rpm.
Durable: Tested and long-lasting operating automatism, stainless steel cup holder.
Mix: The first agitator consists of a double whisk in composite and is more suitable for ice-cream based preparations.
Shake: The second agitator consists of a single whisk in white composite with a diameter and thickness, making it particularly suitable for mixing milk or preparing iced shaken coffee.
More Features:
Commercial spindle drinks mixer in polished finish

Activating micro switch

Fan cooled motor

Sure-grip feet

Stainless steel container holders and spindles


1-liter stainless steel containers
Motor:  300 W, 110-120 V, 50-60 Hz, 15,000 rpm
Dimensions:  8 x 7 x 19h in.
Net/Gross weight:  7 lbs / 9 lbs
Additional voltage models available.
Financing
Manual
Request Information
Your #1 Source For Commercial Juicers and Pineapple Corers
Have questions? We're ready to help.
To receive more information, please visit our contact page or call our customer service line at 1-800-627-2886 to have all of your questions answered. Our friendly staff can help you select the best equipment for your business.
Contact
Based in Jupiter, Florida — We keep a large inventory of juicers and pineapple corers ready to ship out to you either the same/next business day.
Juice extraction and pineapple coring has never been easier and making fresh citrus juice or peeling and coring pineapple in full view of customers can be an ultimate image builder for your business. Our experienced staff can help turn your ideas into reality with an affordable commercial power juicer or pineapple corer.
Contact Us
Main Office
2875 Jupiter Park Drive
Suite 1600, Jupiter, FL 33458
Mailing Address
286 Barbados Dr.
Jupiter, FL 33458
Our products carry a superior warranty on parts & service. We also have all of spare parts your commercial juicers need.
Customers can fill out a service request form at any time. To fill out the form, please visit our service request page.