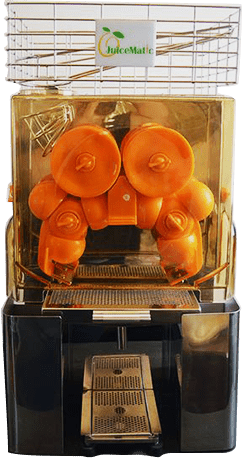 JuiceMatic
JM-20 JuiceMatic Standard Juicer
The JuiceMatic JM-20 standard citrus juicer takes up just 26 inches of counter space, will process 20 fruit per minute, up to 3 1/2 inches (oranges, lemons, and limes), yielding 270-280 oz. per case, depending on the quality of the juicing fruit. The hopper on top is for storage only. The indexing ramp will hold 5-7 fruit, depending on the size. They will automatically index by gravity to the feeding head and the ramp will need to be refilled each time.
Place the sleek stainless steel JuiceMatic Standard Juicer where customers can see and smell the fresh-made juice. This juicer is assembled in Jupiter, FL and is available on an exclusive basis with steel gears, US Dayton motor and all US electrical. You can remove the parts without tools, making cleaning easy. All parts of the JuiceMatic Standard Juicer are made of material with valid health standards for foods.
Optional lemon/lime squeezing heads are also available.
Net/Gross Weight: 133/158 lbs
Depth: 14 ½"
Width: 15 ½"
Height: 35″
Motor: 110V, 60 Hz, 1 ph
Power: 1/6 Hp
Brochure
Your #1 Source For Commercial Juicers and Pineapple Corers
Have questions? We're ready to help.
To receive more information, please visit our contact page or call our customer service line at 1-800-627-2886 to have all of your questions answered. Our friendly staff can help you select the best equipment for your business.
Contact
Based in Jupiter, Florida — We keep a large inventory of juicers and pineapple corers ready to ship out to you either the same/next business day.
Juice extraction and pineapple coring has never been easier and making fresh citrus juice or peeling and coring pineapple in full view of customers can be an ultimate image builder for your business. Our experienced staff can help turn your ideas into reality with an affordable commercial power juicer or pineapple corer.
Contact Us
Main Office
2875 Jupiter Park Drive
Suite 1600, Jupiter, FL 33458
Mailing Address
286 Barbados Dr.
Jupiter, FL 33458
Our products carry a superior warranty on parts & service. We also have all of spare parts your commercial juicers need.
Customers can fill out a service request form at any time. To fill out the form, please visit our service request page.