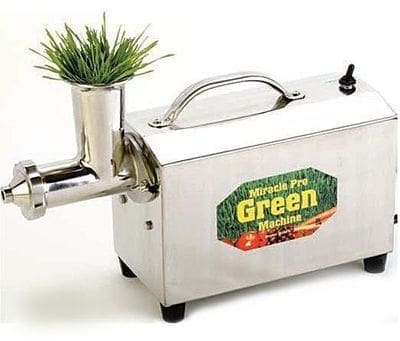 Miracle Pro
The Miracle Juicer for Wheatgrass
Meet the Miracle Juicer for Wheatgrass from Juicernet. This NSF Certified commercial-grade electric juicer is specifically designed for wheatgrass and other leafy greens. It's great for the discriminating juice enthusiast as well as for use in juice bars.
Its unique auger design ensures maximum juice yield with the driest pulp waste. This wheatgrass juicer features an outstanding forward and reverse action. The grass that may become tangled and clogged is instantly untwisted and pulled into the juicer without the user's reach into the mechanism. Its body and juicing components are made of stainless steel for strength and purity that will hold up wonderfully in any busy environment.
The Miracle Juicer for Wheatgrass Features
Easy to operate, easy to clean!

Geared-down motor for power and low foaming
Forward and reverse switch

Powerful, quiet, low RPM motor

Unique dual stainless steel screen system

Outputs approximately 2 oz. per minute

Stainless steel housing, auger and body
Pusher for assisting in feeding grass
Instruction booklet with recipes
WARRANTY: One (1) year parts and labor.
SPECIFICATIONS:
Dimensions assembled: 18″ L x 6″ W x 12″ H
Power supply: 110 VAC 50 Hz
Power input under load: 75W
Rated speed: 53 RPM
Rated torque: 183 lb
Insulation class: E
Standing weight: 20 lbs
Your #1 Source For Commercial Juicers and Pineapple Corers
Have questions? We're ready to help.
To receive more information, please visit our contact page or call our customer service line at 1-800-627-2886 to have all of your questions answered. Our friendly staff can help you select the best equipment for your business.
Contact
Based in Jupiter, Florida — We keep a large inventory of juicers and pineapple corers ready to ship out to you either the same/next business day.
Juice extraction and pineapple coring has never been easier and making fresh citrus juice or peeling and coring pineapple in full view of customers can be an ultimate image builder for your business. Our experienced staff can help turn your ideas into reality with an affordable commercial power juicer or pineapple corer.
Contact Us
Main Office
2875 Jupiter Park Drive
Suite 1600, Jupiter, FL 33458
Mailing Address
286 Barbados Dr.
Jupiter, FL 33458
Our products carry a superior warranty on parts & service. We also have all of spare parts your commercial juicers need.
Customers can fill out a service request form at any time. To fill out the form, please visit our service request page.