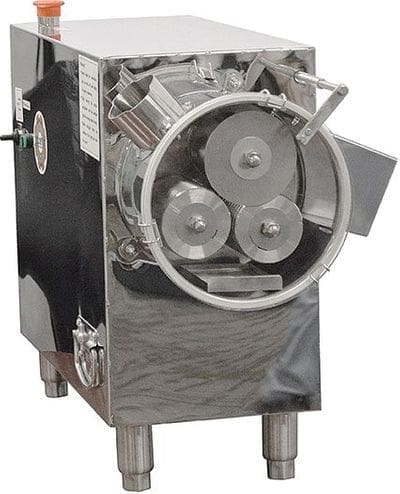 JuiceMatic Plus Inc.
Non-NSF Certified Sugarcane Juicer SC-B
Are you thinking about putting freshly squeezed sugarcane juice on the menu? The SC-B Sugarcane Juicer by JuiceMatic Plus Inc. has removable rollers and juice compartments for easy cleaning. Additionally, it is a one-pass unit that offers better yield because of the gap between the rollers. Made with heavy-duty stainless steel, this machine will run at top performance for years to come. The SC-B is designed with a gearbox that gives the device more torque, reducing the motor's stress. Please see our manual for more technical specifications if needed. We stand behind our products 100% and offer a full one-year warranty on parts.
ASSEMBLED IN JUPITER, FLORIDA.
WARRANTY: One year parts
Diameter of inlet hole: 2 ¼"
Output Speed: 15 rpm
Net / Gross weight: 198 / 223 lbs
Product Dimensions: 27 l x 14 w x 19.5 h in
Motor: 110V, 60hz. 1/2 hp, 10 amps
Materials: 90% Stainless steel rubber feet prevents machine from moving during operation, rollers and juicing compartment removable for easy cleaning; magnetic safety switch; forward-reverse switch; totally gear driven; stainless steel strainer.
More About Sugarcane Juice:
Sugarcane is a tall grass that resembles bamboo. Similar to wheatgrass, you can juice the sugarcane with a strong juice extractor like our Juicematic SC- B Sugarcane Juicer. The juice consists of water, low glycemic sugar, phytonutrients (including chlorophyll), proteins, soluble fiber and a wide variety of antioxidants, vitamins, minerals like calcium, chromium, cobalt, copper, magnesium, manganese, phosphorous, potassium and zinc. It also contains iron and vitamins A, C, B1, B2, B3, B5 and B6. It is a delicious natural energy drink served around the world. Some popular additions to the juice include sea salt, lemon and lime juice.
Did you know that there are many benefits to drinking sugarcane juice?
Great preventative and healing source for sore throat, cold and flu
Strengthens the kidney, heart, brain, eyes, and stomach
Contains iron and a variety of essential vitamins
Refreshes and energizes the body instantly as it is rich in carbohydrates
Your #1 Source For Commercial Juicers and Pineapple Corers
Have questions? We're ready to help.
To receive more information, please visit our contact page or call our customer service line at 1-800-627-2886 to have all of your questions answered. Our friendly staff can help you select the best equipment for your business.
Contact
Based in Jupiter, Florida — We keep a large inventory of juicers and pineapple corers ready to ship out to you either the same/next business day.
Juice extraction and pineapple coring has never been easier and making fresh citrus juice or peeling and coring pineapple in full view of customers can be an ultimate image builder for your business. Our experienced staff can help turn your ideas into reality with an affordable commercial power juicer or pineapple corer.
Contact Us
Main Office
2875 Jupiter Park Drive
Suite 1600, Jupiter, FL 33458
Mailing Address
286 Barbados Dr.
Jupiter, FL 33458
Our products carry a superior warranty on parts & service. We also have all of spare parts your commercial juicers need.
Customers can fill out a service request form at any time. To fill out the form, please visit our service request page.