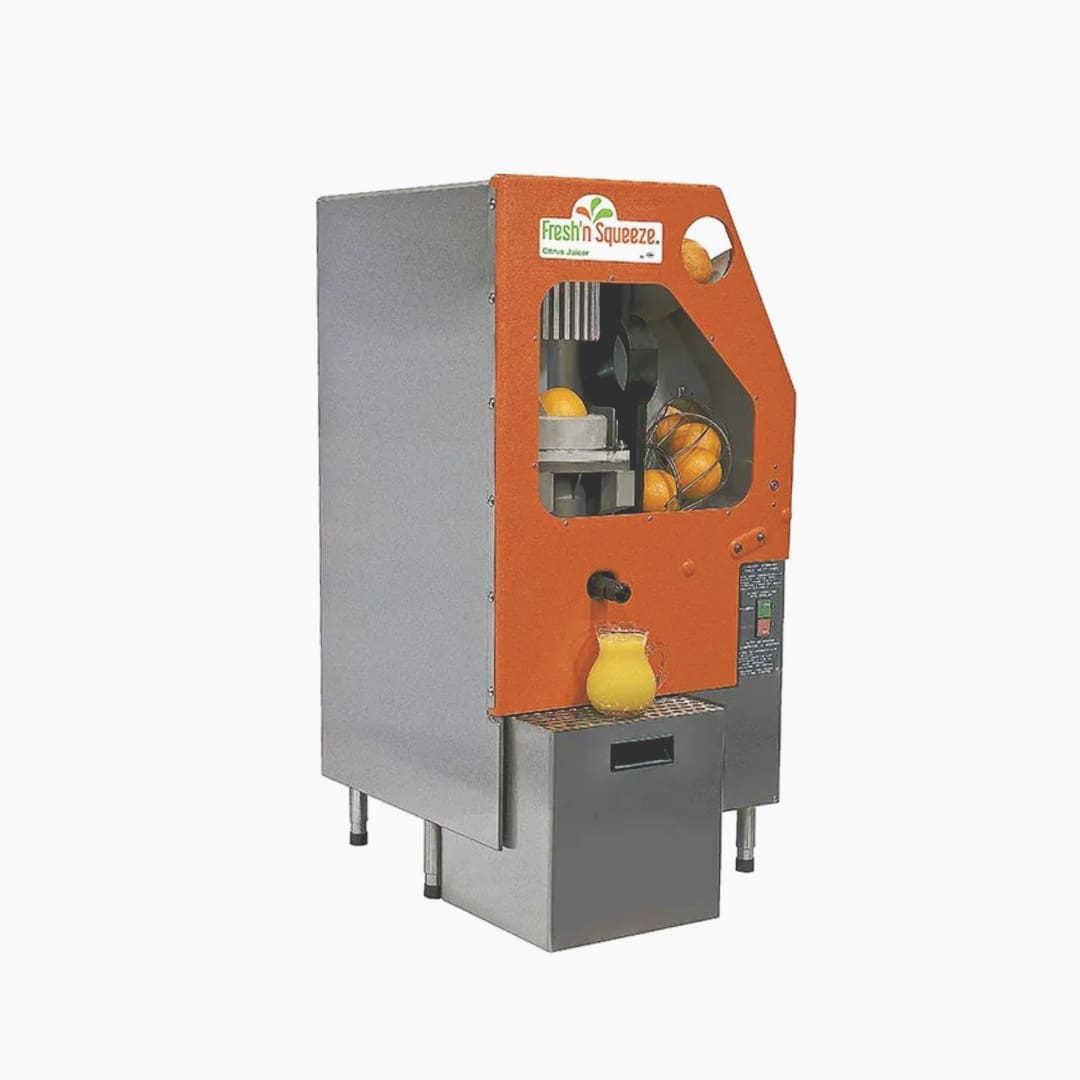 Fresh'N'Squeeze
Commercial Citrus Juicer
Cold Press Citrus Juicer (CJ)
Whole Fruit Extraction Principle
JBT Fresh'n Squeeze (formerly FMC FoodTech) technology provides you with a compact commercial citrus juicer that will not only extract the juice using a cold-pressed patented whole fruit extraction principle but will also "transfer" the liquid into the freestanding chilled juice dispenser. The cold-pressed process is a real attention-getter for your customers showing the whole juicing technique while they wait. Seeing the juice made fresh is a big part of the experience and the taste is undeniably the best. Instantaneously separating the peel and seed from the fruit produces sweeter juice with higher juice yields up to 50% more juice per unit of fruit than any other point-of-sale juicer. Three pulp strainers (no pulp, some pulp and more pulp) are available.
The Ultimate Food Service Image Builder
Adding or expanding your offering with freshly squeezed juice and letting your customers enjoy seeing it in action will help create more store traffic and repeat business. This commercial citrus juicer is the ultimate point-of-sale image builder for your business and perfect for hotels, restaurants, coffee shops, juice bars and grocery stores.
COMMERCIAL CITRUS JUICER OPTIONAL ACCESSORIES:
Strainer tubes to vary pulp levels
Mobile cart with dispenser shelf
Standard Hopper: 1/2 box 50 fruit, 20 lbs. 60 fruit
Large Capacity Hopper: 1 box 100 fruit, 40 lbs. 120 fruit
Chiller/Dispenser
SPECIFICATIONS:
Fruit types:  Oranges, grapefruits, lemons, limes and tangerines
Fruit size:  2.5″ to 3.25″ diameter
Oranges — FL:  125 to 50 count
Oranges — CA:  138 to 48 count
Grapefruits — FL:  56 to 48 count
Throughput:  10-13 fruit/min.
Juice production:  46 quarts/hour approx.
Fruit capacity without hopper:  15-20 fruit
Reservoir capacity:  3.5 gal. (1 carton)
Waste container capacity:  40 Ib. of peel (2 cartons)
Electrical specifications:  110V, 60 Hz
Equipment specifications:
31 ½ h x 18 1/6 w
x 4 d in
Net/Gross weight:  200 Ibs / 325 lbs
Your #1 Source For Commercial Juicers and Pineapple Corers
Have questions? We're ready to help.
To receive more information, please visit our contact page or call our customer service line at 1-800-627-2886 to have all of your questions answered. Our friendly staff can help you select the best equipment for your business.
Contact
Based in Jupiter, Florida — We keep a large inventory of juicers and pineapple corers ready to ship out to you either the same/next business day.
Juice extraction and pineapple coring has never been easier and making fresh citrus juice or peeling and coring pineapple in full view of customers can be an ultimate image builder for your business. Our experienced staff can help turn your ideas into reality with an affordable commercial power juicer or pineapple corer.
Contact Us
Main Office
2875 Jupiter Park Drive
Suite 1600, Jupiter, FL 33458
Mailing Address
286 Barbados Dr.
Jupiter, FL 33458
Our products carry a superior warranty on parts & service. We also have all of spare parts your commercial juicers need.
Customers can fill out a service request form at any time. To fill out the form, please visit our service request page.