1st Generation Commercial Cold Pressed Multi-Fruit Citrus Juicer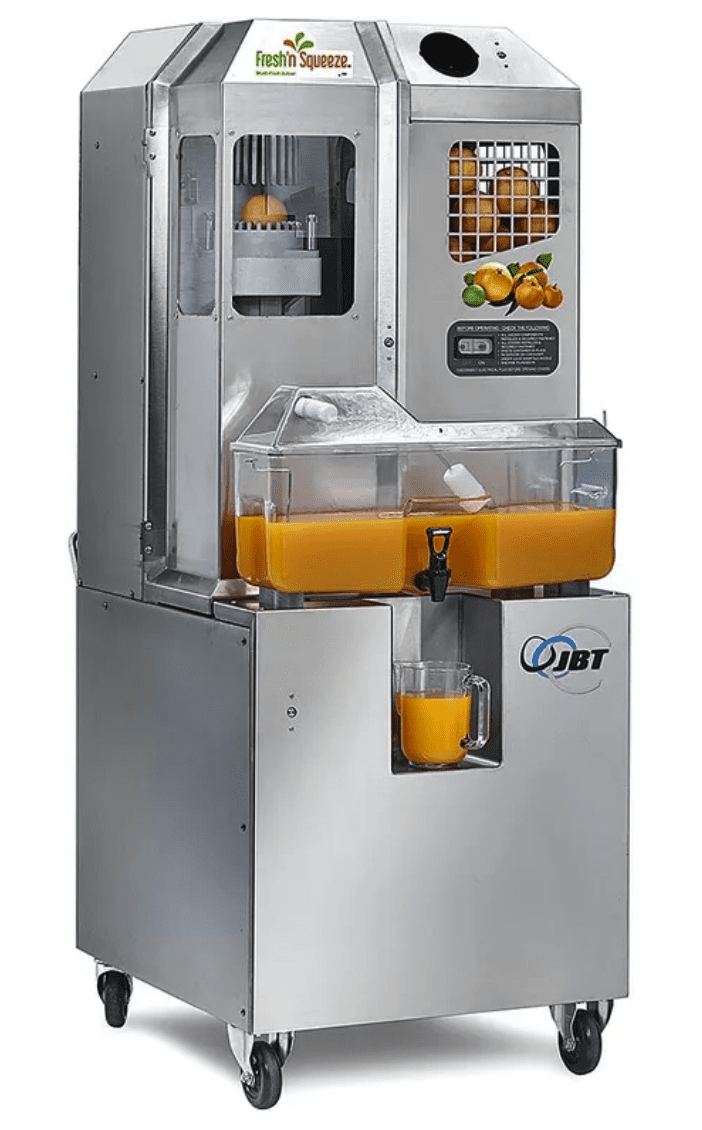 Fresh'N'Squeeze
1st Generation Commercial Cold Pressed Multi-Fruit Citrus Juicer (MFJ) by JBT
Available as Reconditioned Only
See it in action!
Juice Quality
This is the perfect juicer for supermarkets, high volume juice bars and more. The Multi-Fruit Juicer uses the cold-pressed Whole Fruit Extraction Principle. This instantaneous separation's basic principle is the primary reason for the superior quality juice delivered by the Fresh'n Squeeze® Multi-Fruit Juicer. The cold pressed juicer separates the juice from that peel, which can adversely affect the product if allowed to be together for any period. Quality is also assured through the sanitary design of the juicing components.
The MFJ has only five parts that are stainless steel (viewed positively by health departments) and are dishwasher safe. Further, the only expendable part is the cutter blade, which can be re-sharpened. Three pulp strainers (no pulp, some pulp, more pulp) are available.
Significantly Higher Juice Yield than Cut and Press Method Juicers
The Fresh'n Squeeze Multi-Fruit Juicer yields more juice per unit of fruit than any other citrus processing equipment, a minimum of 40% more yield. Its unique design allows the juicer to handle various fruit sizes and most of the world's citrus varieties, including oranges, grapefruit, lemons, limes and tangerines. Three pulp strainers (no pulp, some pulp and more pulp) are available.
Benefits of the 1st Generation Cold Pressed Multi-Fruit Juicer (MFJ):
High quality cold pressed juice with minimal peel oil

Reliable, easy to operate and safe equipment that processes a wide range of types and sizes of citrus fruit

A cold pressed juicer that achieves the highest juice yields
Customers expect:
Sweet tasting, freshly squeezed juice

Great value for the price

Nothing but juice–no seeds, no peel

Watch the juicing process in action
SPECIFICATIONS:
Throughput:  20 fruit per minute
Processing speed:  80-120 quarts per hour
Fruit hopper capacity: 40 lbs – 1 carton
Reservoir capacity:  3.5 gallons
Waste container holds:  40 lbs
Average fruit size diameter:  2.5 to 3.875 in
Orange count:  Per 40 lbs, Carton, 138 to 48
Grapefruit count:  Per 40 lbs, Carton, 56 to 48
Lemon, lime count:  Per 40 lbs, Carton, 138 to 95
Versatility:  Juices all types of citrus fruit without adjustment
Optional:  Strainer tubes for various juice pulp requirements
Electrical requirements: 750 watts, 115 volts, 60 Hz
Weight: 535 lbs
Your #1 Source For Commercial Juicers and Pineapple Corers
Have questions? We're ready to help.
To receive more information, please visit our contact page or call our customer service line at 1-800-627-2886 to have all of your questions answered. Our friendly staff can help you select the best equipment for your business.
Contact
Based in Jupiter, Florida — We keep a large inventory of juicers and pineapple corers ready to ship out to you either the same/next business day.
Juice extraction and pineapple coring has never been easier and making fresh citrus juice or peeling and coring pineapple in full view of customers can be an ultimate image builder for your business. Our experienced staff can help turn your ideas into reality with an affordable commercial power juicer or pineapple corer.
Contact Us
Main Office
2875 Jupiter Park Drive
Suite 1600, Jupiter, FL 33458
Mailing Address
286 Barbados Dr.
Jupiter, FL 33458
Our products carry a superior warranty on parts & service. We also have all of spare parts your commercial juicers need.
Customers can fill out a service request form at any time. To fill out the form, please visit our service request page.