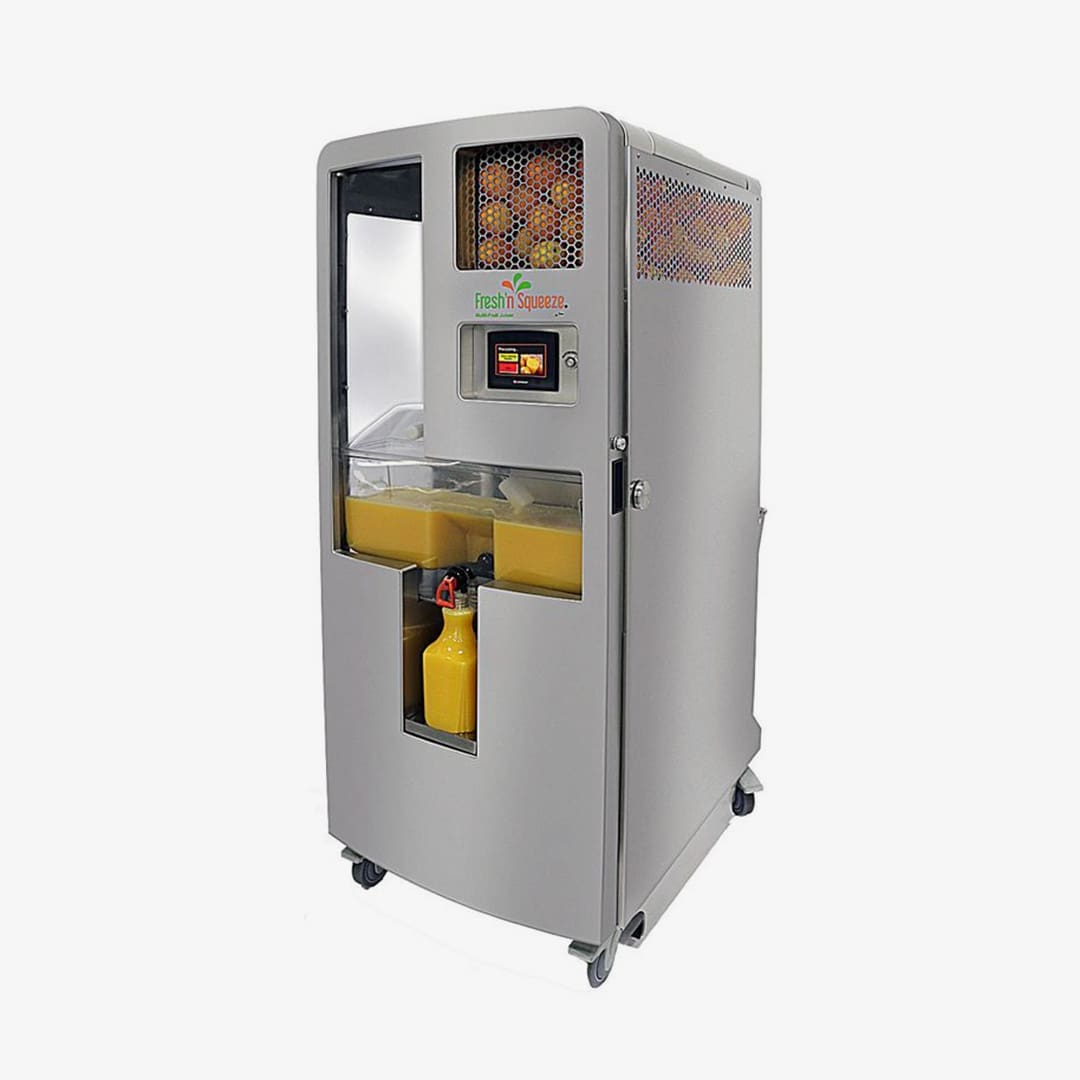 Fresh'N'Squeeze
See it in action!
2nd Generation Commercial Cold-Pressed Juicer (MFJ) by JBT
Juice Quality
This is the perfect juicer for supermarkets, high volume juice bars and more. The standard cold pressed juicer uses the whole fruit extraction principle. This
instantaneous extraction principle is the primary reason for the superior quality juice delivered by the Fresh'n Squeeze® Multi–Fruit Juicer that separates the peel oil from the fruit. Peel oil adds bitterness to the taste of citrus juice, therefore, minimizing peel oil provides a cleaner taste of juice.
Quality is also assured through the sanitary design of the juicing components.
The MFJ significantly reduces risk of contamination because of the peel
separation process. Three pulp strainers (no pulp, some pulp, more pulp) are
available.
Increased Juice Output with Variable Speed
The 2nd generation model offers three-speed settings instead of one, increasing juice output by approximately 65% more than the 1st generation model. This Multi-Fruit Juicer model is capable of handling up to 33 pieces of fruit per minute and producing up to 55 gallons of fresh juice per hour.
New Open Design
A faster and easy to operate version of the classic system with a better theater effect. The juicer features viewing windows showing the juicing process and increased visibility of stored citrus.
Digital Display Panel
Monitors fruit cycles and tracks maintenance schedule.
Easy Clean-up
The new stainless-steel interior allows for complete wash down, making cleaning the juicer quick and easy.
Significantly Higher Juice Yield than Cut and Press Method Juicers
The Fresh'n Squeeze Multi-Fruit Juicer yields more juice per unit of fruit than any other citrus processing equipment with a minimum of 40% more yield. Its unique design allows the juicer to handle various fruit sizes and most of the world's citrus varieties, including oranges, grapefruit, lemons, limes, and tangerines, without any change of component parts.
SPECIFICATIONS:
Fruit size:  2.5″ to 3.875″ diameter
Oranges — FL:  125 to 50 count
Oranges — CA:  138 to 48 count
Grapefruits — FL:  56 to 48 count
Throughput: 25 to 33 fruit per minute
Hopper capacity:  80 Ib. (2 cartons)
Reservoir capacity:  3.5 gal. (1 carton)
Waste container capacity:  40 Ib. of peel (2 cartons)
Speed:  25 fruit/minute (40 to 60 gallons/hour)
Certifications: NSF, CE, cULus
Electrical specifications:  115V, 60 Hz
Shipping specifications:  65.4h x 26w x 35d in
Net/Gross Weight:  750 Ibs / 995 lbs
Your #1 Source For Commercial Juicers and Pineapple Corers
Have questions? We're ready to help.
To receive more information, please visit our contact page or call our customer service line at 1-800-627-2886 to have all of your questions answered. Our friendly staff can help you select the best equipment for your business.
Contact
Based in Jupiter, Florida — We keep a large inventory of juicers and pineapple corers ready to ship out to you either the same/next business day.
Juice extraction and pineapple coring has never been easier and making fresh citrus juice or peeling and coring pineapple in full view of customers can be an ultimate image builder for your business. Our experienced staff can help turn your ideas into reality with an affordable commercial power juicer or pineapple corer.
Contact Us
Main Office
2875 Jupiter Park Drive
Suite 1600, Jupiter, FL 33458
Mailing Address
286 Barbados Dr.
Jupiter, FL 33458
Our products carry a superior warranty on parts & service. We also have all of spare parts your commercial juicers need.
Customers can fill out a service request form at any time. To fill out the form, please visit our service request page.