Commercial Juicer Cleaner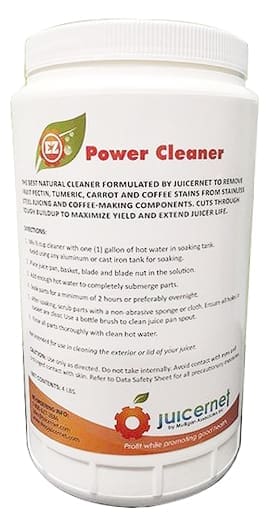 Juicer Cleaner by Juicernet
Food-Safe & Eco-Friendly Commercial Juicer Cleaner
Exclusive to Juicernet, this excellent commercial juicer cleaner will remove your juicer's most challenging stains. Safe for food appliances and eco-friendly, our cleaner is perfect for those juice bars that need to keep their equipment clean (and with a clean conscience). Soak in the solution for a minimum of two hours or overnight and rinse. It's ideal for eliminating carrot, turmeric and other tough stains on your juicer basket. Your juicers will be stain-free and ready to satisfy new customers every day. The cleaner is great for everyday cleaning of the juicer. Get your commercial juicer cleaner today to keep your juicer in top condition for longer. Remember, being kind to your juicers will give you many faithful years of use.
PREPARATION SUMMARY
Mix ½ cup cleaner with one gallon of hot water

Soak parts for at least two hours

Rinse clean and dry
Order Online
Safety Data Sheet
Your #1 Source For Commercial Juicers and Pineapple Corers
Have questions? We're ready to help.
To receive more information, please visit our contact page or call our customer service line at 1-800-627-2886 to have all of your questions answered. Our friendly staff can help you select the best equipment for your business.
Contact
Based in Jupiter, Florida — We keep a large inventory of juicers and pineapple corers ready to ship out to you either the same/next business day.
Juice extraction and pineapple coring has never been easier and making fresh citrus juice or peeling and coring pineapple in full view of customers can be an ultimate image builder for your business. Our experienced staff can help turn your ideas into reality with an affordable commercial power juicer or pineapple corer.
Contact Us
Main Office
2875 Jupiter Park Drive
Suite 1600, Jupiter, FL 33458
Mailing Address
286 Barbados Dr.
Jupiter, FL 33458
Our products carry a superior warranty on parts & service. We also have all of spare parts your commercial juicers need.
Customers can fill out a service request form at any time. To fill out the form, please visit our service request page.