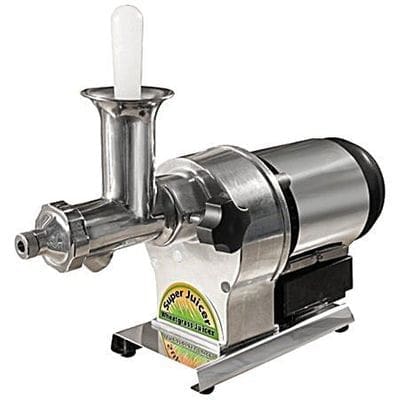 SUPER JUICER
Commercial Wheatgrass Juicer
Super Juicer Wheatgrass SB0850
The "Super Juicer" Commercial Wheatgrass Juicer is an industrial-grade wheatgrass juicer made of 304 surgical-quality stainless steel. For durability and longevity, the Super Juicer is equipped with a heavy-duty ½ HP motor that is air-cooled and requires no lubrication. The juicer is quiet, and the head assembly has a positive interlocking system as a safety measure.
The Super Juicer is fast and efficient so that you can serve your customers fresh juice faster. Depending on your produce quality, it will produce approximately five ounces of juice per minute. The juicing head is made from 304 food-grade stainless steel, and the base and motor housing are made from stainless steel.
Commercial Wheatgrass Juicer Features
Processes up to 5 ounces per minute – grasses, herbs, sprouts and other greens


Self-feeding stomper is furnished for quicker juicing of longer wheatgrass

Continuous pulp expulsion

An adjustable resistance screw optimizes juicing different types of produce


Forward and reverse buttons

Easy assembly and disassembly; easy cleaning

Stainless steel base and motor housing
304 food grade stainless steel head assembly


Drive unit has a positive interlock system for a sturdy and tight connection—this means long life without stripping out and/or a noisy connection

Heavy duty air-cooled motor


The motor is circuit breaker protected and permanently lubricated
Motor 70 RPM; torque 182-inch pounds

.5 HP motor – 375-watt, 120 volt, 60 Hz

Assembled Unit – 16" L x 7" W x 12″ H (without plunger)


Standing Weight – 33 lbs.

Includes – body/motor, head assembly, 2 screens, 2 rubber gaskets, 2 auger bushings, 1 waste valve washer, operating instructions

UL listed
One-year warranty
Your #1 Source For Commercial Juicers and Pineapple Corers
Have questions? We're ready to help.
To receive more information, please visit our contact page or call our customer service line at 1-800-627-2886 to have all of your questions answered. Our friendly staff can help you select the best equipment for your business.
Contact
Based in Jupiter, Florida — We keep a large inventory of juicers and pineapple corers ready to ship out to you either the same/next business day.
Juice extraction and pineapple coring has never been easier and making fresh citrus juice or peeling and coring pineapple in full view of customers can be an ultimate image builder for your business. Our experienced staff can help turn your ideas into reality with an affordable commercial power juicer or pineapple corer.
Contact Us
Main Office
2875 Jupiter Park Drive
Suite 1600, Jupiter, FL 33458
Mailing Address
286 Barbados Dr.
Jupiter, FL 33458
Our products carry a superior warranty on parts & service. We also have all of spare parts your commercial juicers need.
Customers can fill out a service request form at any time. To fill out the form, please visit our service request page.