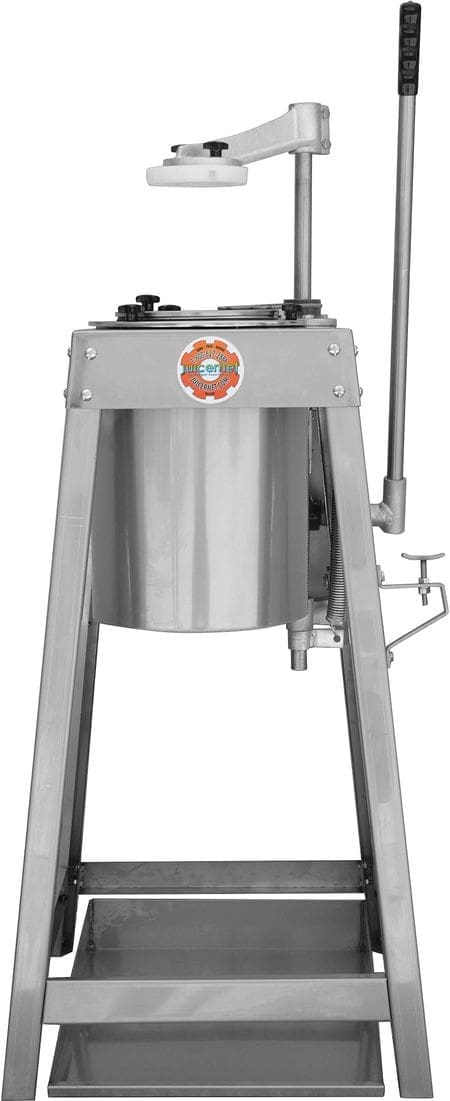 Juicernet
Watch it in Action!
Stainless Steel Pineapple Corer S961
Freestanding Model
Juicernet's stainless steel pineapple corer helps increase sales by up to 300% by having "ready to eat" pineapples on display. The cut pineapple adds a fresh look to the produce department and makes displays "come alive." This is a quick and easy approach to merchandising for profits.
Features

With wheels and handle for easy mobility and cleanup.
Made in North America
The knife turns 90 degrees when coring and peeling.
Heavy duty free-standing machine equipped with wheel for easy mobility. Factory-installed pivoting safety shield.
Corrosion-proof stainless steel cutter bed.
The farmers' markets, grocery stores, produce stands and more will benefit from our Pineapple Corer machine. Quickly prepare the pineapple for your customers and watch your sales increase when you offer them a fully peeled pineapple with our stainless steel pineapple corer.
SPECIFICATIONS:
Dimensions:  22.25″D x 20″W x 51.25″H
Weight:  70 lbs.
Shipping weight: 100 lbs.
Your #1 Source For Commercial Juicers and Pineapple Corers
Have questions? We're ready to help.
To receive more information, please visit our contact page or call our customer service line at 1-800-627-2886 to have all of your questions answered. Our friendly staff can help you select the best equipment for your business.
Contact
Based in Jupiter, Florida — We keep a large inventory of juicers and pineapple corers ready to ship out to you either the same/next business day.
Juice extraction and pineapple coring has never been easier and making fresh citrus juice or peeling and coring pineapple in full view of customers can be an ultimate image builder for your business. Our experienced staff can help turn your ideas into reality with an affordable commercial power juicer or pineapple corer.
Contact Us
Main Office
2875 Jupiter Park Drive
Suite 1600, Jupiter, FL 33458
Mailing Address
286 Barbados Dr.
Jupiter, FL 33458
Our products carry a superior warranty on parts & service. We also have all of spare parts your commercial juicers need.
Customers can fill out a service request form at any time. To fill out the form, please visit our service request page.