Legendary Lifestyle Café's team, Juan Nance, Marcus Hatten, and Kirsten Allen pride themselves on being "more than a company" but rather a support system invested in the health and wellness of the people of Baltimore City in lower income communities with little to no access to fresh grown produce. Juan Nance, one of the co-owner's of Legendary Lifestyle Café has a contagious sense of enthusiasm and passion that will undoubtedly translate into his efforts to provide healthier food alternatives in his local community. Juan stated, "…The pandemic has shown a lot of us that it is the little things in life that are important, more than the grand scheme of things that we chase every day…"
Juan divulged their recipe for success which will include African culture, a sense of community, wellness, and not to mention, "Legendary people." Legendary Lifestyle Café has one of our NSF certified SC-3 Sugarcane juicers. They are planning on using our sugarcane juicer to curate an assortment of different variations of fresh juice options to serve on demand. Jessie Clark, the Marketing Specialist at Juicernet asked Juan what his favorite feature of the SC-3 Sugarcane juicer is and he mentioned that he appreciates that the SC-3 sugarcane juicer is assembled in the USA. He also noted that our sugarcane juicer has allowed him to produce significantly greater yield when juicing sugarcane.
"Sugarcane Saturday" is held every Saturday at the Legendary Lifestyle Café. This event features House music, Afro-beats, roots reggae music and "dirty cane" juice with a "twist" cocktail. If you are ever in Baltimore, Maryland be sure to stop by for a fresh sugarcane juice!
Grand opening for Legendary Lifestyle Café is scheduled to take place in May, 2021!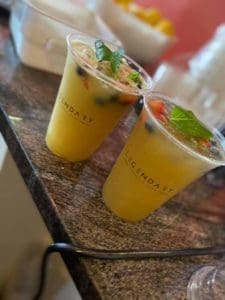 https://www.legendarylifestylecafe.com/