Targeted toward the home juicer but could be coming to some commercial juice operations.
The Packer reports on two companies adding Juice Kits to their offerings. "There's no argument that The Packer is the fresh fruit and vegetable industry's leading source for news, information and analysis. The Packer has been reporting every week on the produce industry since 1893. ThePacker.com serves fresh fruit and vegetable growers, packers, and shippers; produce retailers; foodservice distributors; fresh-cut processors; wholesale produce distributors, and allied product and service providers."
Fresh-cut specialist Freshline Foods has launched a new line of produce for juicing.
Mississauga, Ontario-based Freshline's Juicing Kit line features cut beets, kale, apples, carrots and other fresh fruits and vegetables, according to a company news release.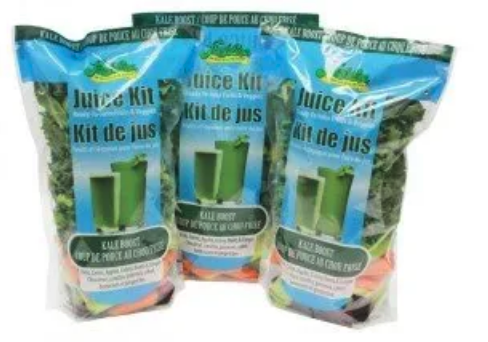 "Consumers today are more focused on being healthy but also want quick and easy meal solutions that fit in with their busy lifestyle," Noel Brigido, Freshline's vice president, said in the release.
"Juicing has grown over the years, to the point where it has become a mainstream meal replacement for many consumers. Adding the convenience of ready-to-go solutions will further promote this into the future."
The first Juicing Kit product is a Kale Boost kit, which features fresh-cut kale, carrot, apples, celery, beets and ginger. The product is packed in a 12-ounce stand-up bag with high-color graphics.
Future additions to the line will include organic products.
Harvest Sensations has added three organic products to its ready-to-juice fresh produce line.
Spinach Splash, Lemon Ginger Twist and Cool Carrot Craze began shipping in late August. The organic line launched in April with Kale Blast. The products come in 12-ounce bags. Shelf life is 12 to 14 days.
"The juice market is incredibly strong," said Terri Fletcher, director of foodservice and retail development for Los Angeles-based Harvest Sensations. "Juicing themed restaurants are popping up across the U.S., and given juicing is popular as a meal solution any time of day, this group of restaurants' success rate is above the industry standard."
Distribution of the new products has focused on retail, but some foodservice operators are purchasing them for health clubs and universities, Fletcher said.
The cut and washed line includes:
Kale Blast with kale, apples, beets, celery, cucumbers and carrots;
Spinach Splash with spinach, zucchini, celery, carrots, apples and beets;
Lemon Ginger Twist with lemon, ginger, beets, kale, apples and zucchini; and
Cool Carrot Craze with carrots, apples, zucchini, chards and celery.
"We recognize the importance and value of what is healthy, good for families, and convenient, whether it be organic juicing or organic salads," she said.